CTM LONE STAR TETRIS CHAMPIONSHIP
Friday July 21st will feature a special Pre-Event with panels from aGameScout, Tetris Gal Talk, and more to come from other content creators and players. A special edition of FRIDAY NIGHT FIGHTS will also occur! Times are TBD, but expect the event to begin Friday afternoon thanks to our partner Shoal Creek Saloon who is giving us a special dedicated all day and all night long.
Oh and the tournaments. Saturday and Sunday will feature a 24-player Double Elimination Tournament!! Sunday morning, we will also have a DAS NATIONAL CHAMPIONSHIP with either the top 8 or 12 advancing. It will be possible to qualify both in-person and online for both tournaments. More deets coming soon. Keep checking ⁠our Discord for more information Be there all three days!
Lone Star Championship Full
Winner's Bracket
Redemption Bracket
National DAS Championship
Lone Star Championship Full
Winner's Bracket
Redemption Bracket
National DAS Championship
We are fundraising to make the weekend more special! Five large items can be supported to enrich the weekend.
– Flexstyle Live!
– Saturday Cookout
– Special Guest (TBA) Support 
– Panelist Support
– Friday Dinner Tab
Please visit lonestar.herokuapp.com to contribute!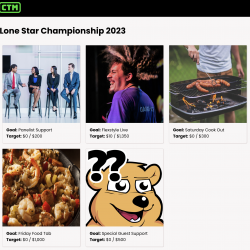 24-player CTM Lone Star Championship
– All playstyles accepted
– Double-Elimination
– Winner's Bracket Best of Five Throughout (Saturday)
– Loser's Bracket Best of Three (Sunday)
– Level 39 Super Killscreen throughout

12-player CTM National DAS Championship
– DAS Only
– Single Elimination
– Round 1 and 2; Best of Three
– Semifinals and Finals; Best of Five
Qualifiers will be entirely in-person Saturday July 22nd at the Palmer Events Center. Free entry to the tournament; no rental stations this year. Both tournaments will feature highest score qualifier with scores uncapped.
To submit a score, raise your hand and a qualifier judge will take a picture of you alongside your game score. It will then be submitted to the ctm.gg website.
24-player Double Elimination Open Championship qualifiers begin Saturday at 9 AM with last game being called at 12:30 PM. There will be a line with 8 stations available.
12-player DAS National Championship qualifiers begin Saturday around 1 PM with last game being called at 5:30 PM. There will be a line with 4 stations available. Gym carts will be set to DAS mode and have judges supervising. No rolling; however, slow taps are allowed under DAS limits.